Microsoft Excel - Power Pivot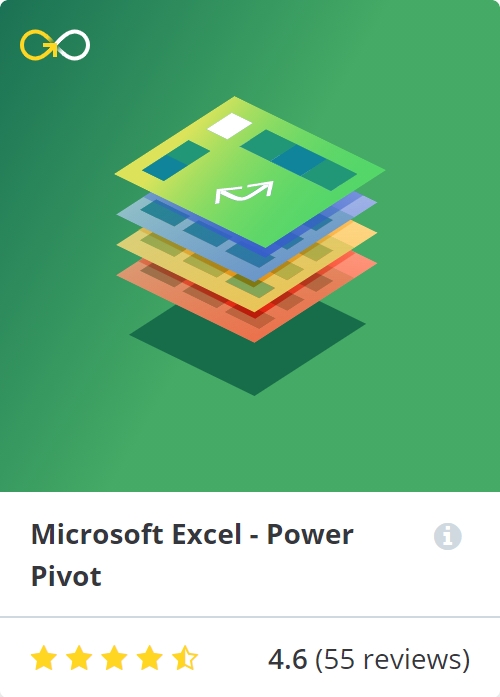 COURSE DESCRIPTION
Are you ready to turbocharge your PivotTables? Power Pivot is a free Excel add in that allows you to perform powerhouse data analysis and modeling to make intelligent business decisions.
This Power Pivot online training, which Ken Puls has developed with a company called GoSkills, will help you step up your game and take your skills to new heights.
If you aren't familiar with this amazing tool, here are four reasons you will want to learn Power Pivot:
Power Pivot makes analysis easy. You can output data visually to create a dashboard view that is easy to understand at a glance, even by clients or managers who aren't experts with the data.
Power Pivot can work with very large data sets. With the boom of big data not slowing down anytime soon, this is a huge benefit for data-hungry analysts, who can load millions of rows of data using Power Pivot that traditional spreadsheets can't handle.
Power Pivot allows you to leverage business intelligence technology right within Excel. Even small businesses or entrepreneurs can level up their data analysis and modeling, without needing to purchase expensive BI tools or bring in IT pros.
Power Pivot saves you time. You no longer have to maintain a myriad of workbooks, or use complex formulas to create relationships between tables. Instead, keep all your data in one place and create relationships with a quick drag and drop.
Once you learn how to use Power Pivot, you'll wonder how you ever lived without it.
What will you learn in this Power Pivot training online?
In this Power Pivot training, you will start by learning how to get data and transform it into useful tables using Power Query. Then you will learn how to build a proper dimensional model in Excel, by linking multiple tables together in order to solve common real-world problems.
You will also learn to write your own custom calculations for PivotTables using DAX (Data Analysis Expressions), Power Pivot's formula language.
By the end of this Power Pivot course, you will have the know-how to build amazing reports that are simply impossible to create with standard PivotTables, and add a valuable skill to your resume in the process.
Highlights:
33 practical tutorials
Enabling Power Pivot and Power Query
An overview of the business intelligence (BI) process
Pivot table skill review
Getting data from databases, tables, and ranges
Data modeling techniques
Creating a Power Pivot table and linking tables
DAX training to build measures and write custom calculations
Design best practices for stability
Videos are recorded in Microsoft Excel 2016 for PC.
Power Pivot is available with the following versions of Office: Excel 2010, Excel 2013 & 2016 standalone, Office 2013 Professional Plus, Office Professional 2016, Microsoft 365 (previously known as Office 365).
Who is this Power Pivot course for?
The training is ideal for data analysts, financial analysts, business analysts, managers, and anyone who wants to harness Excel's business intelligence capabilities.
This course is designed for beginners in Power Pivot. The course covers a brief review of PivotTables. However to get the most out of this training, you should already be experienced with PivotTables and ready to take them to the next level.
If you need a refresher, we recommend taking the Excel PivotTables course first.
Looking to further your reporting and business intelligence skills? You may also enjoy the Excel Dashboards, Power BI, and Power Query online training.
REGISTRATION
For full course details and to register, visit the GoSkills website.
Even better, there's even a discount available if you're ready to sign up. Just enter the code XLGURU at checkout and you end up getting the course at 15% off the regular price.