In June 2010, Microsoft released the Excel WebApp as part of their Windows Live offerings. This is an interesting product as it allows you to store, read, edit and share your Excel document in the cloud. This means that it is no longer necessary to email your file around to all of your friends; you can have it stored in one place so that everyone is always working with the latest version of the spreadsheet.
We can set security on the file for who can view the file, or who can add/edit or delete files from our folders. And the best part of it all is that it is completely free!
This article will show you the basic functionality of the Excel WebApp including how to create a new WebApp file and upload files from your computer.
To get started you need to sign up for a Windows Live account from www.live.com if you don't already have one. (You have a Windows Live account if you have a "hotmail" or "live" email address, whether it be .com, .ca, or .somethingelse.)
Accessing your SkyDrive
Once you've logged in to your account, mouse over the Windows Live section of the top bar and click SkyDrive:

You'll be taken to a window that shows your My Documents folder. Let's click on that.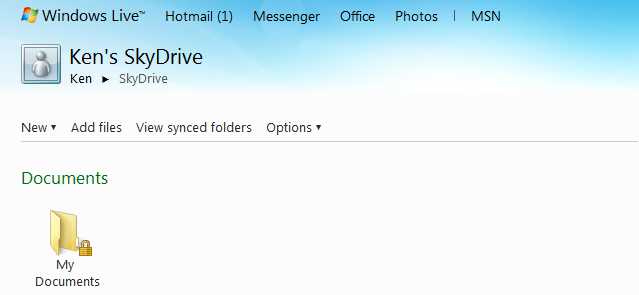 Creating Office files in SkyDrive
Now, as Windows Live is telling us, the folder is empty. Why don't we create a simple Excel file? (Don't worry, this folder is private, so no one will see any mistakes you make!) Click on "New", and click "Excel workbook"
In the next screen, give the workbook a name, and click Save.
And voila! You're now looking at the workbook opened in the Microsoft Office WebApp.

While it's true that the Excel WebApp doesn't support all the features of the Excel client, it is a fairly functional version of Excel running in your web browser.
Try it out for a bit. Put in some colour, put some numbers in the cells and write a simple SUM formula to see how it works.
One thing that is important to note here is that there is no need to save the files. It is done automatically for you when you are working in the workbook.
Adding existing files to SkyDrive
When you're done, click SkyDrive to be taken back to your SkyDrive folders, and browse back into your My Documents folder. Click on "Add Files":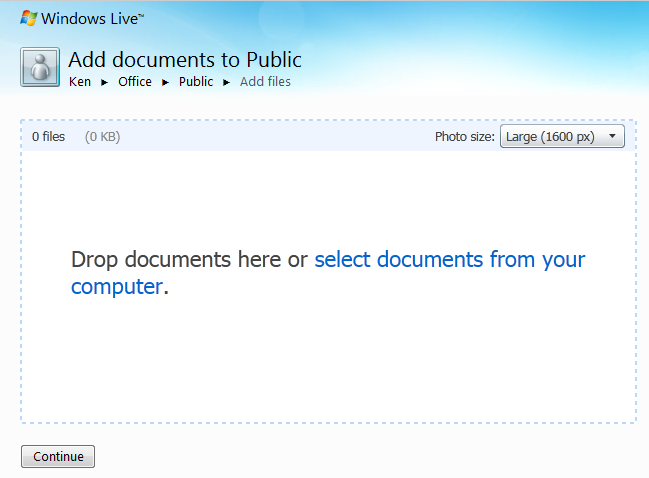 This is the area where you can upload files from your computers to SkyDrive, whether dragging documents to the window, or by clicking the link to upload them.
What's amazing is that you can even upload the older file format .xls files into SkyDrive and use them in the Webapp. The Excel WebApp converts them to the new .xlsx file format so that you can use them there.
What can you do in the WebApp?
The Excel WebApp isn't really meant as a power user construction platform. In fact, the amount of things that you can do when working in the web version are quite limited. Things you can do include:
Basic font selection and formatting
Font alignment and text wrapping
Changing number formats
Sorting and filtering data tables
Inserting and deleting rows
Create tables
Create charts
Open the file in the full version of Microsoft Excel
And really, that's about it. Having said that, however, you can do much more in the full Excel client, and then upload those workbooks to the Excel WebApp. Many of those changes will render correctly in the WebApp, so it becomes clear very quickly that the WebApp is a platform that is intended for data consumption, rather than report generation.
What doesn't work in the Excel WebApp?
You should be aware that there are certain things that the Web App doesn't render, and even some things that prevent the file from opening in the webapp at all. For a complete list of supported and unsupported features, see www.excelguru.ca/forums/showthread.php?108
Next steps
While it's great that you can view and edit your files on the web, wouldn't it be nice if you could also share them with people in the same way? Well guess what... you can! Have a look at Sharing in the Microsoft Excel WebApp to see how!