It always irks me when I look back and realize that I didn't take many pictures…
Monday dawned way too early. I made it down for breakfast, and then off on the 20 minute bus ride to the Microsoft Conference Center on the Redmond campus. I should really take a picture of that building every year. I'm just really glad that the morning session wasn't too intense. 🙂
At any rate, from there it was off to our first real sessions with the Excel team, which was great. I genuinely enjoyed all the sessions this year. After the sessions were over, Zack, Smitty and I headed off to the Microsoft company store, (which has moved since last year and looks great.) And from there it was back to the session building for dinner with the Excel Product Group.
Dinner with the product group is always pretty cool. This year I got the chance to spend some time chatting with Joe Chirilov and Danny Khen, discussing everything from IFERROR formulas (awesome formula!) to Pivot Tables to AutoFilter/ListObject Filter differences. Some serious geek-talk that was a hoot!
So the only pictures I have of Monday are below. This is Zack Barresse (on the sign), and me lounging against it.

It's kind of neat too that every lamp standard on the Redmond campus bears one of these banners. They sure do make you feel welcome as an MVP.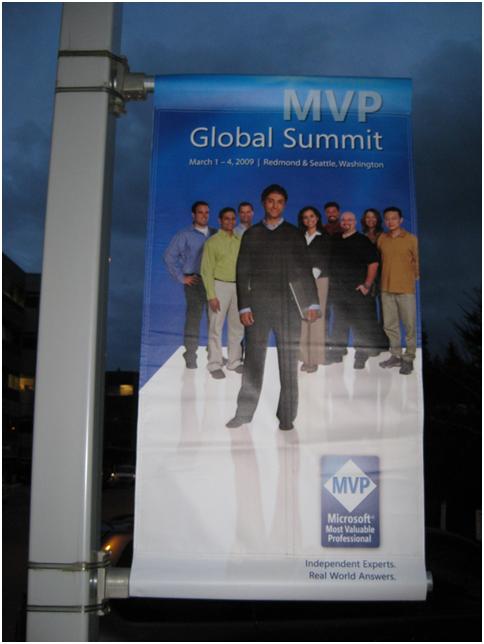 After the Product Group dinner, we headed back to the hotel. We set up in the Westin lobby bar that night, and ended up heading to our rooms before the bar closed. If I recall correctly, I got in around 1:15AM that night… and set the alarm for 6:00AM again.