I don't know how often this happens to you but it drives me crazy…
Assume that I've got a formula set up in a conditional format, named range or some other place that has a "RefEdit" control on it. I highlight the last character in $T$52 and change it to $T$51, then press the right arrow so I can arrow over and change the $AE$51 to $AE$52. What happens? I get a cell reference in my formula!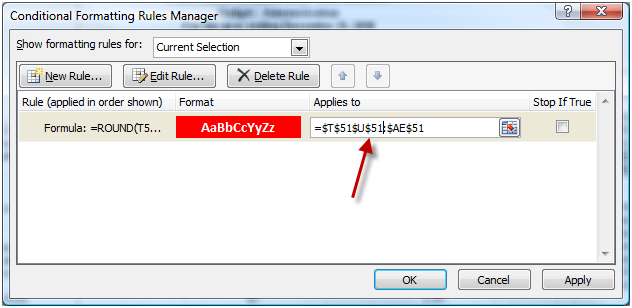 The problem is that the refEdit control (signified by the little box to the right of the typing area) is still in formula creation mode, not editing mode.
To change this, press F2, just like you'd do to edit a cell from the grid. At that point you're toggled into edit mode and you can move around using the mouse as much as you'd like.
The biggest challenge is remembering to do it BEFORE you hit your arrow key. Unfortunately there isn't a way to set the default behavior to be in edit mode. (At least, not that I'm aware of.)