Introduction
This is a very simple add-in that adds a button to the Review tab's Proofing group, allowing the user to have Excel read the selected cells back to them aloud.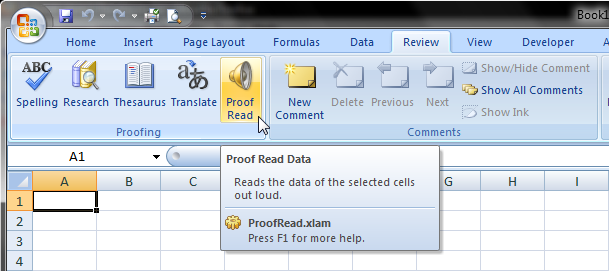 In truth, this add-in does not really add any functionality that has not existed before. In Excel 2003 and earlier, you could find this ability under Tools-->Speech-->Show Text to Speech Toolbar. But for some reason no button was put in Excel 2007 to give you the ability to have Excel speak your cell contents back to you. This simple Excel 2007 add-in gives you back the ability to quickly locate this functionality.
To install this add-in
Download the zip file from this link (or the link below)
Extract the contained xlam file to your computer
Open Excel
Click the Office button --> Excel Options --> Add-ins --> Go
Click Browse, locate the xlam add-in file you extracted, and double click it
Click OK
The ProofRead add-in should now be installed. Navigate to the Review tab, and check the Proofing group. You should now see new button as shown in the image above.
Using the Tool
Select a range of cells that contains data and click the "Proof Read" button. Excel will read the data in each populated cell back to you.
Additional Info
If you'd like to tinker with this, the addin is not protected.