As 2018 draws to a close, I've been taking a look back and thought I'd share a quick Year in Review for the last 12 months at Excelguru.  This is not by any means a complete look at things, but rather some of the cool insights that I was able to look back on here.
Travel Stats
Every year my business grows, and I spend more time in a plane.  I even (naturally) have a Power BI dashboard to track my flights and the nights I spend away from home.  Here's some of the key highlights from 2018: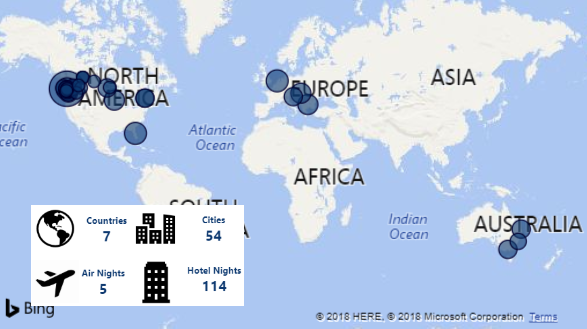 The map above shows where I stayed across 54 different cities in 7 different countries. I spent a total of 119 nights away from home last year, of which 5 were spent in a plane.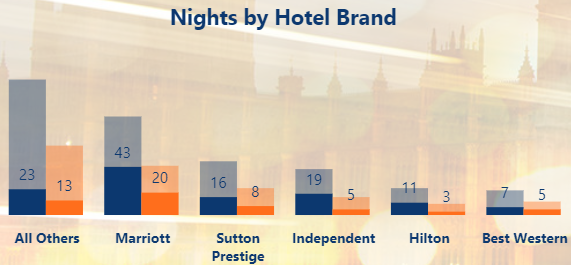 When you get to a location, you have to stay somewhere.  I usually stay at the Sutton Place when I'm in Vancouver (8 times for a total of 16 nights in 2018), but due to the Starwood/Marriott merger, I seem to be hitting their brand more often than anyone else. Not shown here, I actually hit tiered loyalty status in four different hotel chains this year.  That's a bit crazy, but you can't always get the hotel you want when you travel.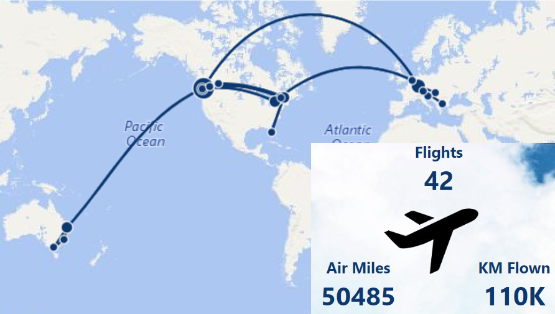 There is a cool custom visual for Power BI that allows you to display your flights, which I've used here.  (A key stats summary is superimposed via a screenshot.)  My last flights of the year put me into the Star Alliance Gold level, something that I would have achieved earlier had I been a bit more aware of booking classes like I am now!  One of my friends once pointed out that "airline loyalty levels aren't a badge of honour", but you know... if you're going to travel... you might as well earn the perks.  I'm looking forward to priority luggage service, Zone 1/2 boarding, lounge access and especially the upgrade credits!
Teaching Moments
Excelguru's main business focus is teaching.  And after running some numbers, I was able to work out that I'd seen or spoken to over 2,100 people this year.  (Granted, that's not all unique people, as some come to multiple events), but still!  Here's a breakdown of how those numbers work out:
I've also realized that I need to do a better job of tracking this information so that it pops out in my Power BI generated summary automatically.  😉
In addition to the above "in person" contact, the Excelguru blog has seen almost 200,000 unique viewers, and the forum another 335,000 unique viewers as well.  And all of this is strictly focused on the Excelguru brand... we've also got our world famous PowerQuery Academy that has its own collection of students!
Our Team
The final stat I'm going to throw out there for this year is the size of the Excelguru team.  At this time last year, we had 3 full time employees; Ken, Dee & Rebekah.  We've grown a little since then, and are now up to 4.5 full time equivalents, with some additional contractors that we pull in on an "as needed" basis.  We've got an exciting announcement coming up in January related to this as well.
What's next?
We're really looking forward to a great 2019.  As far as travel goes, my plans currently include visits to New Zealand, the USA (multiple times), Bulgaria and Slovenia.  I may also be returning to England and the Netherlands, as well as travelling to Argentina and Brazil if all goes according to plan.
With regards to products, we've already planned out the next 3 months of updates for our Power Query Recipe cards.  There will be new content added to the Power Query Academy and - of course - our new "Master Your Data" book WILL be released in 2019.  And yes, there are always other projects cooking too!
On that note, we're going to end it off for 2018, and wish you a safe and happy New Year's celebration. All the best of success for 2019 with your own projects as well!