David Hagar made a comment in my last blog post that I should add a userform to the code that I built there.  Since I had to use it on 40 workbooks, and figured that it could come in useful again, I did exactly that.  If you'd like to try it, you can download a copy.
It needs to unzipped and installed as an add-in, at which point you'll end up with a CF Inspector button on the Formulas tab:

That takes you into the userform where you can type your text and click Find.  It will search all conditional formatting formulas in the workbook for your text, and return the list.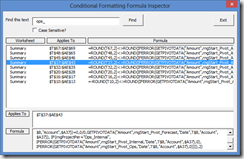 Once you select and item, it's Applies To address and the formula will show in the boxes below so you can see them all.
It's pretty simple, but could be useful since this kind of facility doesn't exist in Excel by default.  Yes, it would be nice if it would do the replace as well, but given the stability issues I mentioned in the last post, I wasn't going to try it on my workbook at this point.  Maybe in future if I added a backup facility first.
Let me know what you think!