This is a pretty cool new feature in Excel 2007 that I think will pay some dividends to people.
The main intention is to ensure that users working in 2007 files are notified when they'll lose functionality by saving back to prior versions.  This is a good thing, of course, but admittedly, it does present itself in a cryptic way under the wording "Minor loss of fidelity".
One of the really great things in it though, is the fact that it checks for external links when saving.  Of course, in previous versions it was painful to do this.  You either had to write code to do it for you, go browse all the named ranges (Insert|Name|Define), or download Jan Karel's Name Manger utility to get an easy to read interface.  Needless to say, most people didn't bother looking at this kind of thing on a regular basis.
Of course, we all know the issues that this can cause.  If your settings were automatically set to update links, then you'd never even know you were doing it.  The values in your spreadsheet could be pointing somewhere else and updated without your knowledge.
I have to admit that since I've been using Excel 2007, I've now come across 5 workbooks that have had this issue.  Here's the message you get: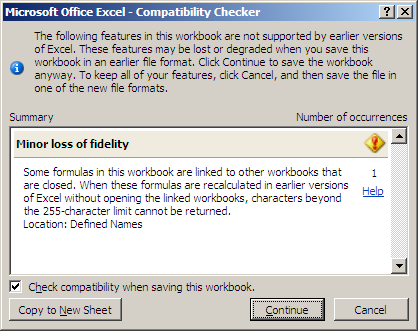 This nice little box is provided as soon as you save the file.  It's also worth nothing that you can uncheck the box to avoid this message if you know you are using links to external files.  As should be, this setting is maintained on a workbook by workbook basis meaning that you won't (can't) accidentally turn it off for all workbooks.
At any rate, a quick trip into Excel 2007's Name Manager for this file yielded me the following: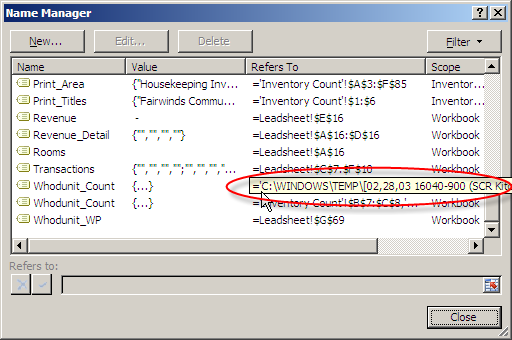 As you can see, this link had been carrying forward in the file for over 4 years!  (It is a working paper that we create a new copy of every month, preserving our historical data.)  Fortunately the link was innocuous, as have been all of the links I've found so far, but it does have the serious potential for problems.  Suffice it to say that I'm cleaning these up as I find them!