ON-DEMAND: Excel Dashboards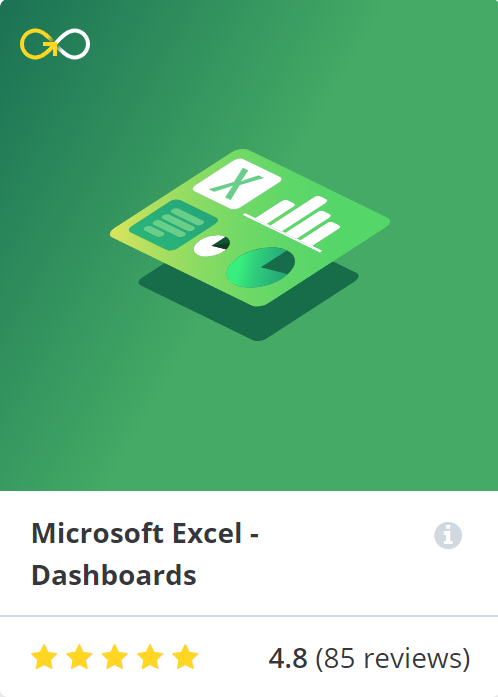 COURSE DESCRIPTION
Take your Excel skills to a whole new level by learning how to build dynamic Excel dashboards to show off your data. Ken Puls has worked with a company called GoSkills to help design and build and online course that will teach you the data visualization skills you need to design any dashboard in Excel exactly the way you want.
You should come to this course with a comfort level of building IF functions at a minimum, and knowledge of PivotTables is an asset, but not a requirement. At the end of the course, you will have gained the practical skills you need to create beautiful, functional and interactive Excel dashboards.
Highlights:
42 practical tutorials.
Understand the goals of data visualization.
Learn to use conditional formatting, from data bars to icon sets to add finesse to your dashboard.
Review the Excel logic functions which are key to adding dynamics to your dashboard.
Explore the 5 rules of effective charting.
Start by building bar charts, column charts, pie charts and line charts to display your data.
Build more complex charts like scatter plots, combination charts and more to really tell your story.
Add interactivity to your dashboard with the MATCH () and INDEX () functions.
Leverage pivot tables within your dashboard to add even more interactivity.
Learn "black magic" dashboarding tricks, like using Emojis and VLOOKUP to further enhance your data.
Video tutorials are recorded in Microsoft Excel 2016 for PC.
REGISTRATION
For full course details and to register, visit the GoSkills website.
Even better, there's even a discount available if you're ready to sign up. Just enter the code XLGURU at checkout and you end up getting the course at 15% off the regular price.