Wednesday morning started, again, at 6:20 AM, and by 7:30 I was on a bus to Microsoft's Redmond campus.  And from there, any locations are under NDA, so I can't tell you anything about where I was.  😉
After a catered breakfast, we were bussed to a top secret location for the day's Excel "deep dive" sessions.  Of course, those also were under NDA, so I can't tell you much from there.  Dick Kusleika has already said that he's not afraid of the future of VBA, and I'd have to agree with him there.  I'll also say that I'm excited to see some of the stuff that they are looking at for the next version of Excel, which will be Excel 14.
After a full day of sessions, we hiked over to the Microsoft store, and stood in line with about 1000 MVP's to get in.  After an hour, we were finally able to have a quick shop, although there really wasn't much that I was interested in.  I bought some pens, and a mouse for a friend, and that was it.  From there, we headed off to our product group dinners.  Unfortunately, we'd been in line so long that by the time we go there, all the food that was left was salad and dessert.  No main courses at all.  This was not good, as we were starving by then.  Fortunately, though, the Excel team was ready to start drinking networking again, so we caught a bus back to the hotel.
We picked up my wife, who according to Bob Phillips is more fun than me anyway (love you Bob!  LOL!)  and headed off to our usual haunt.  In truth, this was probably one of my favourite parts of the summit.  The chance to sit over beer and get to really know some of these guys was something I won't forget.  I had the chance to sit with Stephen Bullen that night, and got some great advice, as well as things to pursue.  This was after spending lunch discussing best practices for working with text files with Damon, and discussions of OLAP cubes and SQL Analysis Services with Charley Kid during session breaks.  My wife also had a blast during the whole event.
This is a picture of the bar that night.  From left to right here are Damon Longworth (with his back to Colo, who took the photo), Debra Dalgleish, Dick Kusleika and Bob Phillips.  If I recall correctly, Jon Peltier is next, between Bob and myself.  My wife, Deanna, is at the head of the table, next to Stephen Bullen and Zack Barresse (both hidden by John Walkenbach.)  Next is Nick Hodge, and finally Niek Otten.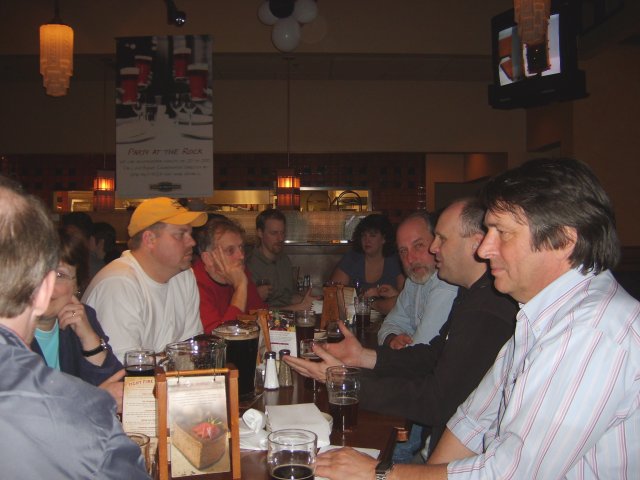 This next picture is of Nick Hodge trying to keep an eye on everything that is going on.  Honestly, I have no idea how this started, but knowing Nick, it only took a moment to get to this point.  🙂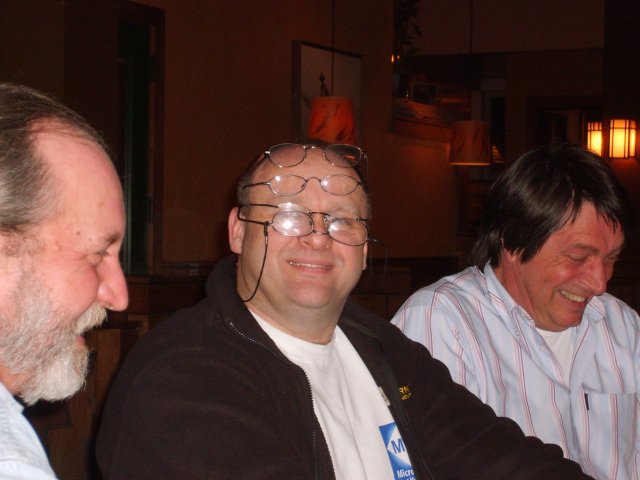 It was a great night at the bar, that ended when they turned the lights on.  So off we meandered to the hotel bar, and resumed the conversation.  It was sometime during that time that Dick decided that it was a good time to write his next blog post.  So off he ran to his room, returning with his laptop.  The picture below is Dick, Colo and Damon trying to get connected to the wireless hotspot in the lobby: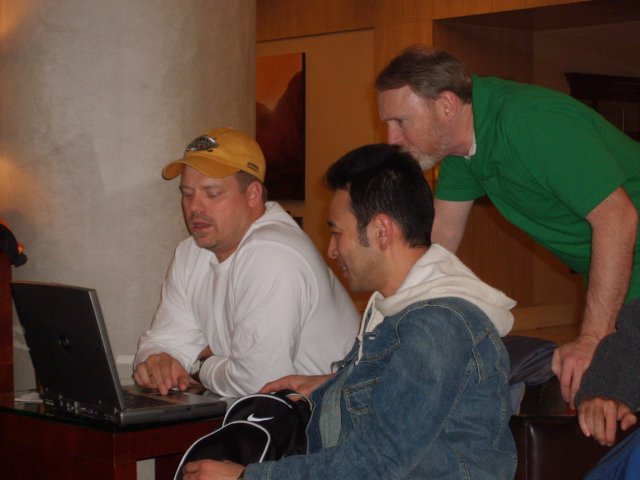 And finally, this is Dick on the phone, trying to find a Windows Wireless Networking MVP to get the issue resolved.  Sadly, they were all asleep, or something, so he never did get hooked up that night.  🙁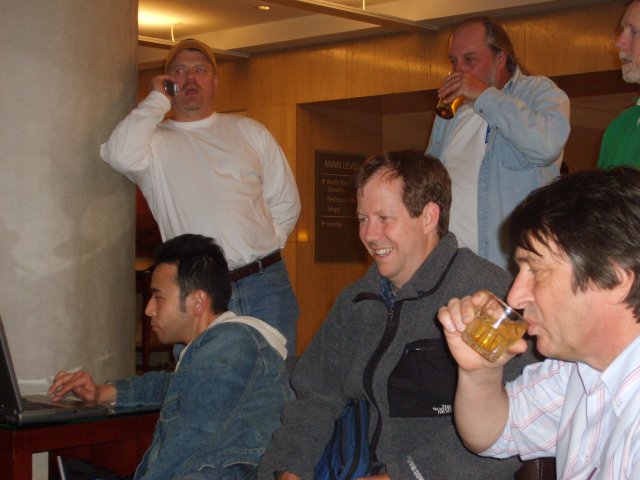 For me, this was the latest night of all.  We had to check out by noon, and we were going to be at the Microsoft campus all day.  That didn't stop us from closing down the Westin bar, though, and I found myself packing all my stuff until about 2:00AM, dreading the 6:20 start that was looming...