Tuesday was a day full of "platform sessions" at the summit, where they tell you about all kinds of things that you don't usually work with. Not to be ungrateful, but I found that those sessions were so high level, that they really weren't useful. While there were some "ooh, ahh" moments in a developer session, I'd really rather have focussed my time on what they call "deep dive" sessions where they get right in to technical content.
At any rate, the day actually started with Bill Gates's keynote speech... most likely the last one he'll ever deliver to an MVP summit since he is retiring soon. My Canadian MVP lead, Sasha, had organized an official Team Canada hockey jersey for each Canadian MVP to wear at the keynote. so almost all the Canadians sat together, which looked a little like this: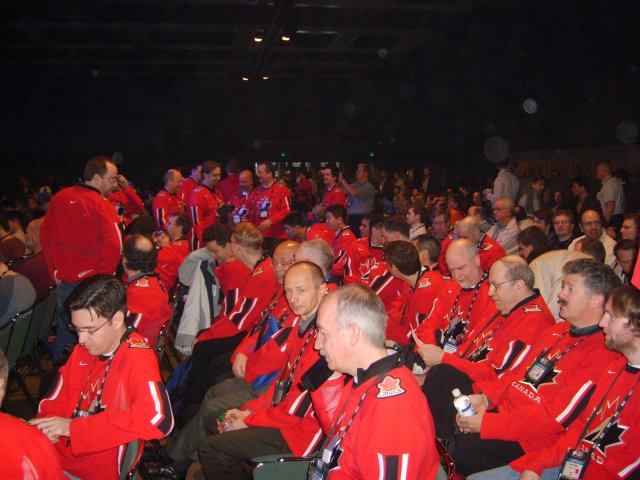 When the event actually started, the chants of Can-a-da started, and we had a great time. If you're an MVP and can get your hands on the recording, you might just hear us a little bit. 😉
After the keynote, we went into the afore-mentioned platform sessions, then headed out for the day, to prepare for the big MVP party at the Boeing museum of flight. Before I left, though, I snapped this picture: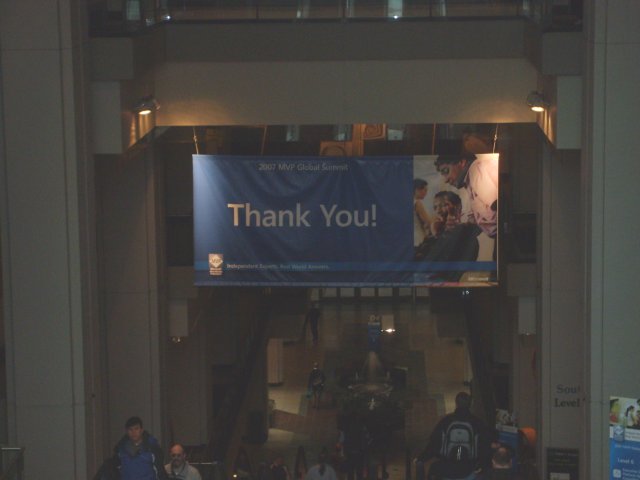 This is one of the things that amazed me most about the summit... Microsoft spent huge dollars on the summit. Every street pole on the Redmond campus seemed to have an "MVP Summit 2007" banner on it, and the size of the super banners like the one above are, as you can see, massive. Microsoft did not skimp on the "Thank you" message at all, which was pretty cool, and really made you feel appreciated. Since most of us would do what we do regardless of the MVP status, this is truly an appreciated thing.
Anyhow... on to the party...
Microsoft organized buses to drive us the 30 minutes from the hotel to the Boeing museum of flight. Since Anne Troy was with us, though, and had a rental car, Bill Jelen offered to drive us there. So five of us piled in to the car. Bill drove, Anne in the front, Zack, Deanna (my wife), and I piled in the back. No sooner do we get in than Bill pulls out a GPS unit and sticks it to the windshield, and off we go.
So here we are cruising along I-whatever, marveling at the cool toy that Bill is using. It's telling him which turn, how far ahead and everything. Zack asks Bill if it's ever steered him wrong. "Absolutely not", he says. So then something weird happens...
Here we are, traveling along at 60 mph when the GPS suddenly indicates a hard right, and Bill slams on the brakes and veers off... Zack's face is pressed against the glass, and I'm trying hard not to end up in his lap, despite the seatbelt. Once things right themselves, and the centrifugal force dies down, we can see that we're now drivign down a sleepy country road. There's no buses anywhere, nor any sign of the museum of flight. I'm looking around, thinking to myself "this is a very scenic route..." Bill tells us that he thinks that he might have missed a turn, and that the GPS is forcing him into a U-turn. At that point he turned on the sound.
A few more turns, and we're back on main roads, with the GPS telling us... "your next turn is coming up in .5 miles". We had to ask... "Bill, if you miss the turn, does it call you a moron? No? Does it have a mean voice at all? It doesn't? Can you download an add-in that gets nasty, cause we really think you need one." The ribbing would continue all the way to the party. 🙂
If you've never been to the museum of flight, it's pretty big. Microsoft had rented the whole thing for us. One of the rooms held an entire XBOX lounge, there was a Jam session room, but the most impressive thing was the museum floor itself. I had to lighten these, so they're not the best quality, but check this out. yes, that is the bar underneath the jet: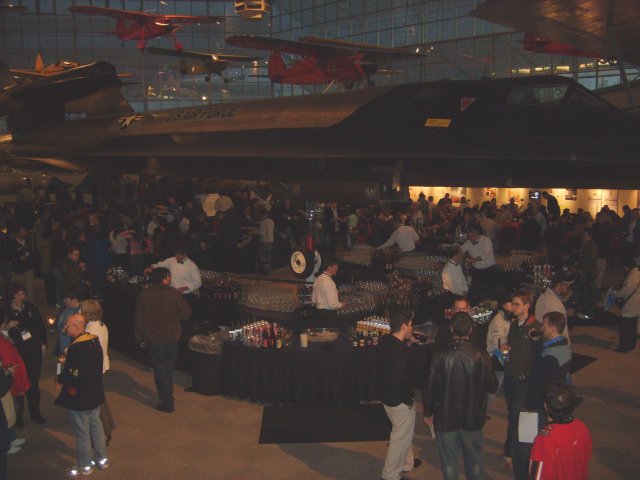 Here's another of the floor: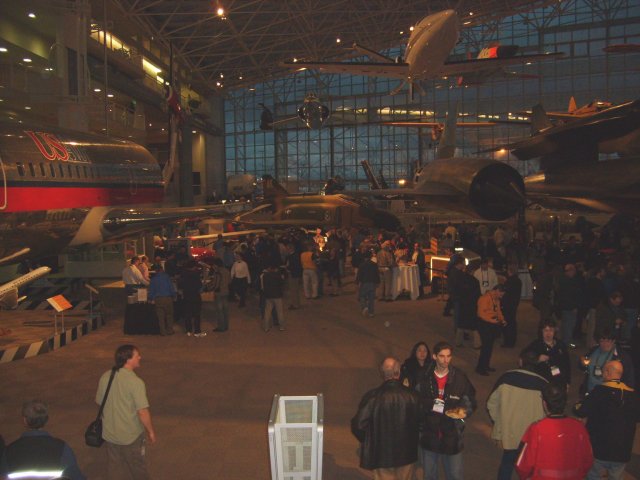 And another: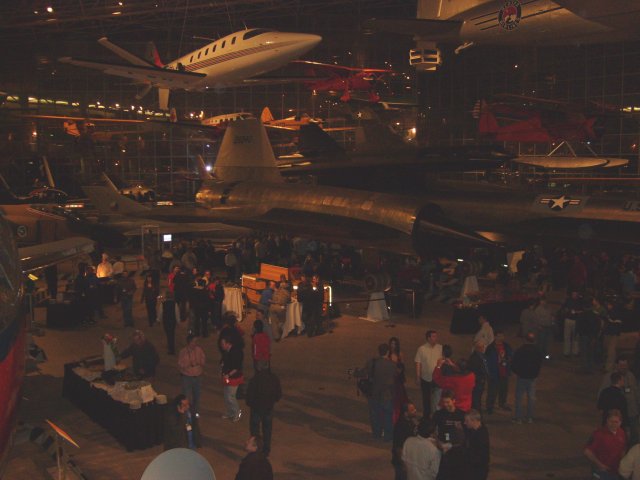 And what you see here wasn't the whole thing, either. The main floor was sunken, and the surrounding floor was the display area for many war planes. (Just to give you an idea of how big it was.) There was a karaoke area upstairs (which was frightening), and food tables everywhere. My wife and I, amongst others, had a blast wandering around, and drinking networking with all the other members of the Excel group. We eventually said goodbye to Anne (she had to fly home), then ended up downstairs with the rest of the Excel crew. Here's a picture of how the round table started, although we were joined by others as well.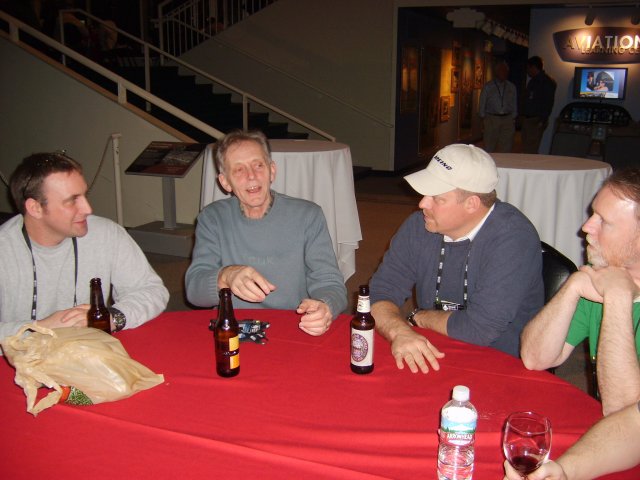 Above are Zack Barresse, Bob Phillips, Dick Kusleika and Damon Longworth. Clockwise from bottom left below are: Damon Longworth (in green), myself, my wife Deanna (although you can't see her here), Debra Dalgleish, Stephen Bullen, Nick Hodge, Zack Barresse, Bob Phillips and Dick Kusleika in the hat.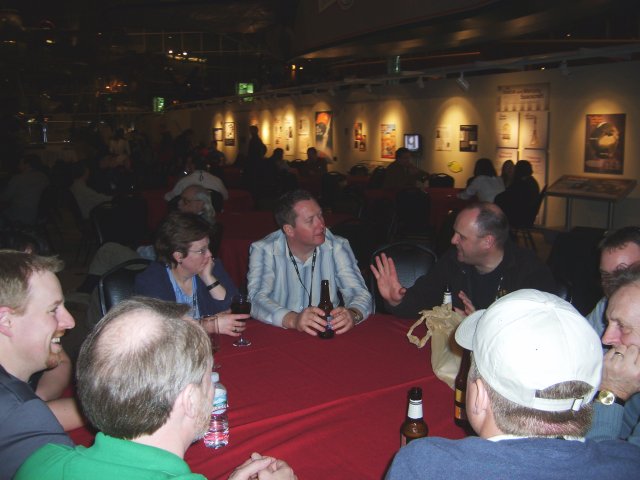 Last shot from another angle shows Dick Kusleika (still in the hat), Damon Longworth, myself and Deanna. With that many pictures, hopefully you can get an idea of how the table set up. 🙂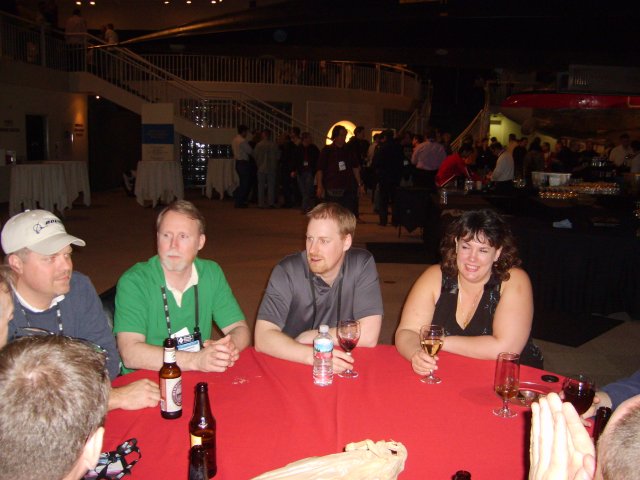 The conversation at that table was great. We talked about stuff from Excel, to the potential Excel Down Under tour, to Canadian Tire money until some polite security guard came over and informed us that the last bus to Seattle would be leaving in about 5 minutes. So off we went, and headed back to our hotel. I actually can't remember if we stuck around and closed down the Westin bar after that or not. Some of the nights started to blend together. 😉
Again, still more to come...