This past weekend we published a major redesign at Skillwave.Training.  Months in the making, this has been a total overhaul to focus on delivering the best online learning experience for our clients.  Check out some of the images from the new site:
Centralized Dashboard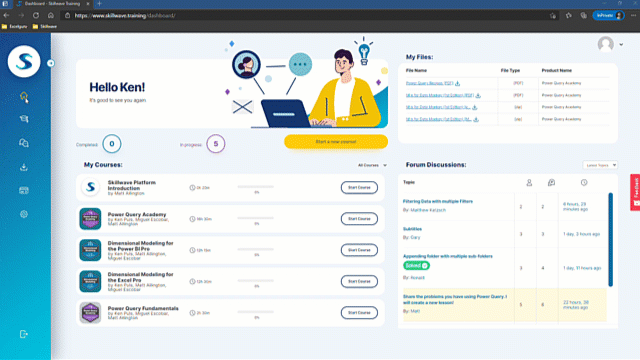 When you log in, you'll be taken to your Dashboard immediately.  This is the one stop console that will let you access any of your active course subscriptions, review forum posts, download your files, and manage your billing and profile details.  We've worked hard to make this dashboard intuitive and easy to use as possible, and to make it look great on mobile as well.
Re-Designed Course Player
The course player is a completely custom built as well.  Of course, you'd expect to see your navigation menu on the left to get to your lessons, but we've also added a "Materials" fly out menu on the right where you can access files specific to any given lesson.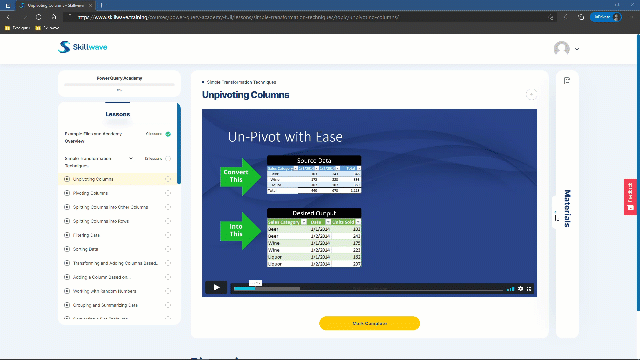 Community Forum Overhaul
We said is was a major redesign at Skillwave.Training, and we meant it.  One of our big goals here was to do a better job with the Skillwave help forum and foster a sense of community within it.  Our belief is that learning is great, but there can be another hurdle when trying to convert theory into practice with your own data.  We see the forum experience and Skillwave community as a crucial part of solving this issue, giving students the ability to:
Ask questions about the course materials,
Get help with applying techniques to their own data,
Interact with other people in the same training,
Practice applying their skills to other data sets, and
Reinforce their knowledge and help others in the process.
Any of our clients who have an active subscription to one of our paid products will find a completely revamped forum experience.  As forum posters ourselves, there were a couple of very important things that we wanted to make sure that our community was provided a good set of tools for:
Asking To this end, we've made sure that we support topic tags, image and file uploads, code tags and a variety of rich formatting options.  (Our old forum was quite weak in this regard).
Answering In addition to the tools above, we've added the ability to mark questions as solved. Our forums are searchable based on topic tags, answered status, solved status and more.
Ensuring high quality answers. Our forum is private and monitored by our admin team.  Even if Matt, Miguel or myself aren't the ones answering specific questions, we have a special "Recommended Answer" tag that we can apply to answers.  This serves two purposes to us: the first is providing assurance to the asker that they got a great answer, while the second is providing validation to a poster that they've provided a high-quality response.
Course to Question Integration
There's one more really cool thing though… We also now give you the ability to post a forum question directly from a given lesson and provide links to all other questions that have been posted in this manner.  This serves both askers and answerers as it links directly back to the source of the question.  We're super proud of this little feature and feel that it sets us apart from other platforms out there.  Not because other platforms don't offer the ability to ask questions – they do.  But we serve all of that up right inside the lesson page.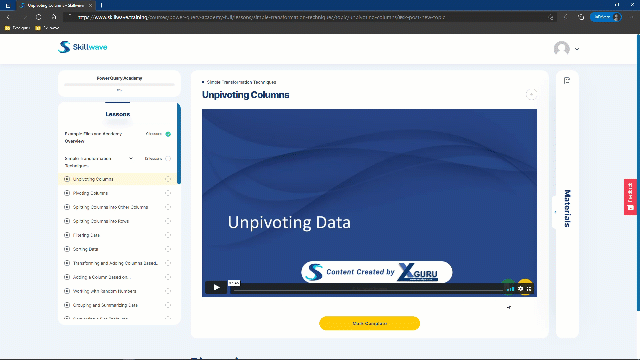 Check Out the major redesign at Skillwave.Training
If you haven't checked out Skillwave.Training yet, you really should.  We've got all kinds of great courses related to Excel, Power BI, Power Query and DAX.  You can even try out the platform via our free Power Query Fundamentals course.  You won't have access to the forums on the free tier, but you'll be able to experience the rest of our new platform.
As we've just launched the site, we'd love to get your feedback.  For the next month or so, you can do that by clicking the little Feedback widget on the right side of any site page.  Let us know what you think!