Okay, it's a simple application. Really simple.
I wrote this as an easy project to break into VB.NET. I'm actually feeling pretty good about it though, as it took me a couple of hours to code a working game, never really having done a lot in VB.NET before. (Most of that time was futzing around with the syntax.)
Based on my tests it even installs in Windows XP and Windows Vista without a hitch too. I was pretty surprised, as I've heard horror stories about deployment, but I think those might have been related more to VSTO.
At any rate, here's a picture of just how complex this is: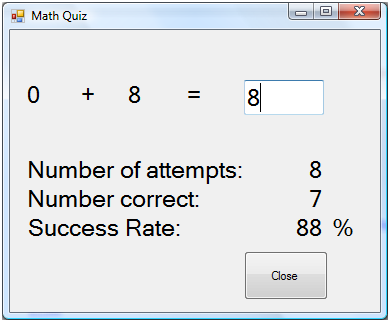 It generates a random equation which can be addition or subtraction. And it tracks the player's stats for the current session only. It was designed for a 6 year old to play, and so far the testing has been positive… although it needs some kind of excitement factor as after about 20 questions it loses its luster.
It does require the .NET 3.5 SP1 framework to be installed. That takes forever compared to the install of this little thing.
At any rate, if you want to try it out, you can download it here:Â  mathgame.zip.