This is a personal post, but it was a HUGE weekend for me where some very cool things happened.  If you're a fan of Excelguru on Facebook, follow me on Twitter, or are connected to me on LinkedIn, you've already seen a bit of this news, but this is a more detailed version of things. 

It started with a soccer game…
We started bright and early, hopping into the car at 7:30 on Saturday morning to head down to Victoria.  Excelguru sponsors the Angry Jellybeans girls soccer team, of which I'm the coach, and we were off to play in the Gorge Soccer Association's mini jamboree.  Three games over two days, and a good test for our Nanaimo based team to see how they'd fare against the Victoria clubs.  We pulled in shortly after 9:00 and played our first game at 10:00.  The girls came out flying, earning a 6-1 victory in their first match.  Confidence was high, the sun was shining, and it was turning into a great day.
We had some time to kill before our second match at 2:00, so we all hung out in the sun for a while, had a hotdog, and just enjoyed the day.  I hung out with my daughter for a while, just chatting.  I don't remember most of what we talked about, but I do remember this… "Daddy, why do you have to go to an awards presentation tonight?  I want you to stay with us for the team dinner."  It's the kind of thing that kills you, you know?
As a bit of background here, my boss had nominated me for Vancouver Island's Top 20 Under 40 awards.  The award recognizes the top 20 business and community leaders under 40 years of age on Vancouver Island.  I'd been shortlisted to the top 100, but the awards banquet was Saturday night in Courtenay… about a 3 hour drive from Victoria where we were playing.  Fortunately I've got a great co-coach in my friend Scott.  Scott agreed to look after the team dinner, my in-laws got a hotel room and kept my daughter overnight, and Deanna and I were set to head up to Courtenay immediately following the game to make it in time for dinner.
At any rate, what can you do to a question like that?  I looked at her and said "well, sweetie… if someone wants to honour you with an award, you should do everything you can to show up.  It's only polite."
She nodded, not happily mind you, but she accepted it.  Then came a question from behind her:  "Coach Ken, what award are you going to win?"
The question to them wasn't IF I'd win, it was WHAT I'd win. 

The funny part is that I hadn't really told a lot of people about this at all.  I'd been shortlisted to the top 100, but I was actively trying to convince myself that I would be okay with that, even if I didn't get recognized in the top 20.  That's a hard battle to wage with yourself when you are as competitive as I am.  Really hard.  I don't settle for short of the mark.  The award said Top 20… to me, that was the mark.  If I'd never been nominated, I wouldn't have lost a minute of sleep over it… but I was… and that meant the prize was top 20.  And yet, I saw the bios of the other finalists, and they were incredible.
I laughed it off, and pretty soon it came time to square off in the next match so we were back to the pitch.
The second game… well… it didn't start so well.  The girls didn't play nearly as well as they should at all, and we were losing 0-1 at half time.  Scott and I pulled them in, had a little chat about how they were playing and how we knew they could play.  It was pretty cool, actually… we coached and they listened… and the second half was a different story.  The girls turned it on, scoring three, conceding one, and ending up with a 3-2 come from behind victory.  We were 2-0-0 on the day.
Equally cool though, was what happened on the sidelines.  We play 6v6 (including a keeper).  Since I keep my keeper in net the entire half, that meant I had 5 girls on the field to sub on and off, and 6 on the sidelines.  We'd taken to subbing 3 at a time.  If it was a corporate environment you would have called it a succession plan… and the effect was interesting.  6 of the girls decided that they should do some cheering… Who's going to win?  Not the King, not the Queen, it's the Angry JellyBeans!  3 girls went on the field, 3 came off.  And the three who were still on the sidelines pulled in the new arrivals… a new round of cheering started.  Then 3 went on and 3 came off… and the cheering started again... and again… and again…
It was very cute.  The cool part was this though… our opponents started a cheer of their own… and their coach was wide eyed.  "I've never heard these girls cheer before… wow!"  My Angry Jellybeans inspired the other team to do something they'd never done before.  Pretty awesome. 

Game done, and with a 2-0-0 record, Deanna and "Coach Ken" hopped in the car, hoping to go 3-0-0 on the day.
The Top 20 awards
We pulled in to the Old House at about 6:10, and I hopped out of the car still dressed in soccer pants and my Angry Jellybeans hoodie.  Working my way through the tuxedos and evening gowns I reached the front desk.  The clerk asks "Are you checking in".  I nodded, and he pulls the last folio off the counter behind him.  "You must be Ken… you need to change!"
I laughed, but he was right.  We bolted to the room, changed superman style, and were out the door about 10 minutes later.
After a quick drive to the Filberg Centre, we parked, hoofed it up the stairs and… holy crap!  There was a red carpet rolled out for us… wasn't expecting that!  I also wasn't expecting to be given a glass of champagne as I walked in the door either… made me kind of feel like a movie star!
Because of the late arrival from the soccer tournament, we missed most of the mix and mingle time, but we still had time to chat with Russell (Fairwinds Asset Manager), his wife Mary, Jim (my boss) and Julie (Jim's wife) who had all come out to support me.  A couple of drinks, some chatting about the day, and a little conversation with a couple of nice guys that rounded out our table of 8 made for a good wind down time from the crazy drive we'd just experienced to get there.
They also gave us a nice full colour book of all the nominees and their bios. We started flipping through them… which only helped to make me more nervous!
Next up were a few speeches including one from Premier Christy Clark, who had skipped her son's hockey game to come and talk to the finalists before the awards.  She had a great speech that had the crowd laughing. Not political, which was nice, but rather focused on us.  You can see some of that in the Chek News coverage.  Next came dinner, then they got to the awards.
Each of the top 100 finalists was given a nice framed certificate to hang in their office.  Here's a picture of Deanna and I (smartphone shot, so quality not great), with mine: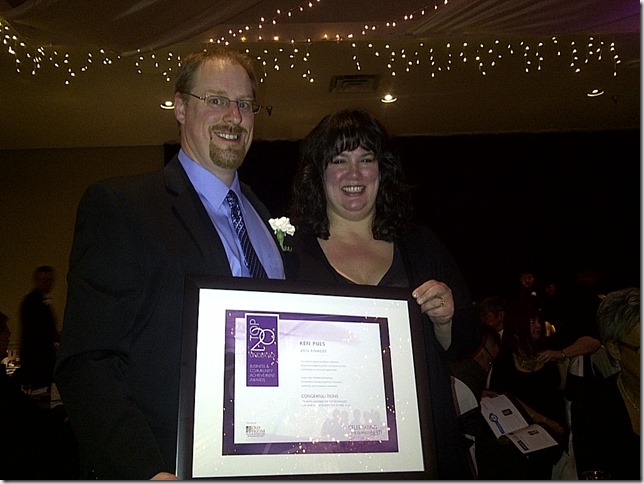 And then came the announcement that they were going to start announcing the Top 20… Russell slams his hand on the table "A hundred bucks on Ken!"
So here's all this support around me, all this encouragement, all this faith… and me still trying to convince myself that it's okay if I don't make the Top 20.
And then it started to roll out, Oscars style.  They called Troy Wilson.  As he's working his way to the stage they're reading a more complete bio.  Troy makes his acceptance speech, and they call another name.  The process repeats and they call another, and another… and another…
And I'm telling myself "It's okay.  Top 100 of all under 40's on the Island is awesome."
… and another, and another…
"You don't have to WIN everything you know…"
… and another …
"It's a hell of an achievement, be proud!"
… and "KEN PULS!"…
The words that came out of my mouth at that moment were deep and profoundly inspired…. "Holy Shit."
I won.
I can actually say that I was a bit in shock.  But I managed to get up there and put together a speech on the fly that I'm pretty happy with.  You can see it here:
And then something remarkably cool happened.  As I was heading back to my table to show off the trophy a young guy stops me… I can't remember the exact words, but it went something like this:
"Ken, I just wanted to tell you that I took one of your Excel courses a couple of years ago.  You really inspired me, and I decided to pursue my accounting designation.  I'm now enrolled and pursuing my CMA.  I'm a huge fan of your website and spend a lot of time there too.  I just wanted to say thank you."
To me, that is the ultimate compliment.  I was so stunned I never even got his name, but wow.  That was inspiring. 

(If you read this, drop me a line!)
Then back to soccer…
After the awards were all presented we returned to the room to get some sleep, turning in around 12:30 AM.  The alarm was supposed to go off at 6:00 AM (which felt like 5:00 AM thanks to the daylight savings time change that night.)  Thankfully Dee woke up right at 6:00 as neither my phone nor hers actually went off.  45 minutes later we were back on the road heading back to Victoria for the final Angry Jellybeans game vs the Gorge FC host club.
When the girls found out that I had won they all surrounded me and gave me a great big Angry Jellybeans cheer, which was really touching.  We then had a chat about our goals for the final game, which ended up with the girls deciding that they were going to "win it for Coach Ken".
My girls are a talented team, and they play hard.  But what I saw on the field on Sunday was remarkable.  They did everything that Scott and I had coached them to do all season long.  They spread out, they were aggressive, they run into open space, they passed to each other, they connected and they scored… and scored… and scored…  At 6-0 Scott and I were just about to implement our "3 passes before shooting rule" when they scored again.  So in the rule went… and they scored again… and again…  By half time it was 9-0.
We came back on after the half with the girls very clear that they had to connect 5 passes before they were allowed to shoot on net.  It was actually great.  There is nothing more amusing that seeing the look on a parents face when one of your players is standing in front of an open net, and they turn and pass the ball because they've only completed 3 passes of the required 5. The Gorge girls also spread out and got more aggressive.  Because of that they did manage to score a goal as well, which was great.  The final score ended up with an 11-1 win for us.
Again though, my girls led a 1 hour cheering session through the game.  And just after half time Gorge responded.  Out of nowhere I hear one of my players say "they just cheered us back… come on, let's have a cheer off!"  And sure as anything they did.  They'd cheer, wait for the other side to respond, and launch into a follow up… over and over again.  It was such a weird counter-point… we were creaming them on the field, and they were still having FUN.  And that is just plain awesome.
My only regret the whole weekend is that I let my girls run the score up as high as they did before putting in the passing rules.  I never want to beat a team by 10 goals, as that is disheartening for anyone.  I want these girls, no matter the team, to play soccer year after year.  But at the end of the day I can't help by feel that this time the girls on the other side had fun anyway.  They were all smiles when they shook our hands, and the coaches from the other side thanked me for my actions in stopping the slaughter while still letting them play.  It really felt like a win-win.
I can't begin to say how proud I am of my Angry Jellybeans.  They played amazing, and they inspired a bunch of kids to have a great time and have fun in ways that their coaches haven't seen before.  It was an inspiring end to a great tournament, and a great weekend.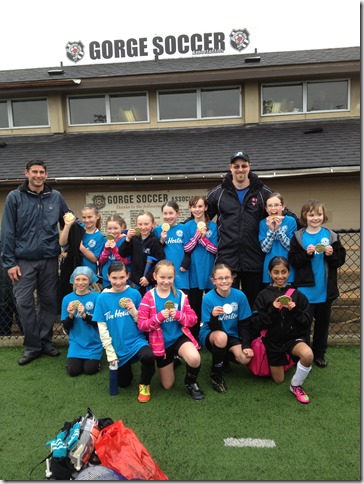 And in the end…
On Saturday night I became part of a very exclusive club… one I'm proud, honoured, humbled, and flattered to be a part of. (As this was the first year of the event, there are only 20 members to date.) What's amazing is that I never pursued this, I just did what I do. With my Excel stuff it's what I love to do, with my other stuff what I feel that I need to do, but regardless, I was recognized for just being me, and that is pretty cool.
And on Sunday I saw the culmination of something very cool in my amazing Angry Jellybeans.  Not only the wins, but the fact that they inspired others in ways that seems like it could only come through some kind of magic.
To all of those of you have liked my Facebook statuses, LinkedIn updates, tweeted me and expressed congratulations on my award through any other manner, Thank You. It means a great deal to me.  I truly feel like a lucky man right now.