It's been a long time coming, but we are putting the finishing touches on the third installment of our free 'DIY BI' series. Consequently, we are excited to announce that the Power Pivot eBook will be officially released on Tuesday, July 3, 2018!
Power Pivot eBook
This brand new book will feature five of Ken's top tips, tricks, and techniques for Power Pivot, including:
Hiding fields from a user
Hiding zeros in a measure
Using DAX variables
Retrieving a value from an Excel slicer
Comparing data using one field on multiple slicers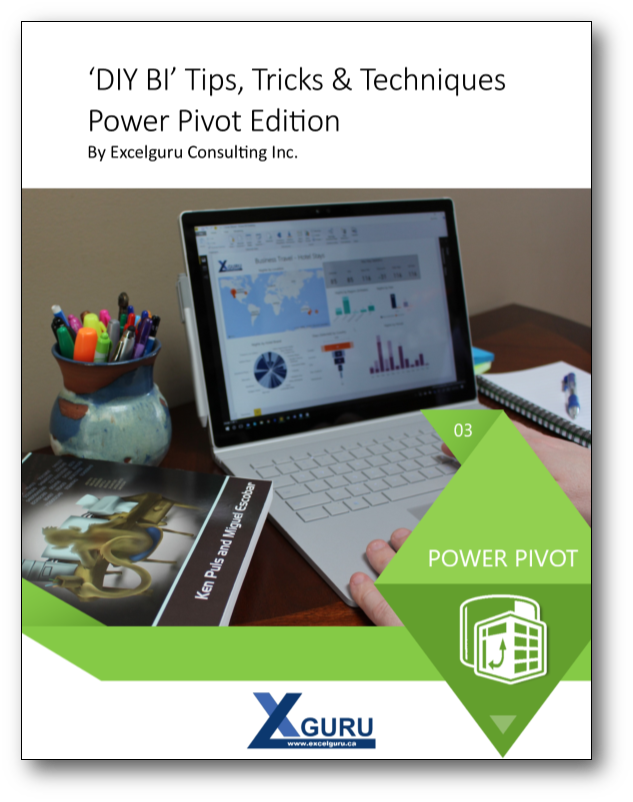 About the 'DIY BI' Series
This free eBook series is available to anyone who signs up for the monthly(ish) Excelguru email newsletter. The series includes four books, one edition each for Excel, Power Query, Power Pivot, and Power BI. Each book contains five of our favourite tips, tricks, and techniques which Ken developed over years of research and real-world experience.

We first launched this series in the spring of 2017 with the Excel Edition, and the Power Query edition followed later that summer. You can read some more about why Ken decided to create this series in his initial blog post about it.
The Excelguru Newsletter
The monthly Excelguru email newsletter features the latest updates for Excel and Power BI, as well as upcoming training sessions and events, new products, and other information that might be of interest to the Excel and Power BI community.
Don't Miss Out, Get Your Free Copy of the Series
If you're not already a newsletter subscriber, you can sign up here. We will send you the Excel Edition right away, and the Power Query Edition a few days later. All of our current and new subscribers will receive the Power Pivot edition once it is released on July 3, 2018. Be sure to keep an eye on your inbox for the new book.
We will be continuing to work on the fourth and final book, the Power BI Edition, over the coming months so stay tuned for details!