COACHED: Self Service BI Boot Camp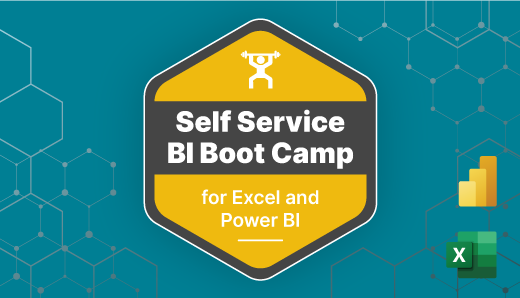 Course Description
Prepare to change your company's reporting game forever! We know that data is not usually stored in nicely curated databases and often – even when it is – the data analyst doesn't have access to it. Instead, we must piece together data provided in text files, Excel files, web pages, and even the body of emails to build the business intelligence solutions we need. Until now this has been a painful process with a great deal of cut and paste effort, and updates have been tedious and error prone. That stops with this workshop!
The Self-Service BI Boot Camp begins with a deep exploration of Power Query. Built-in to both Excel and Power BI, Power Query can clean, reshape, and combine your data with ease – no matter where it comes from. Converting ASCII files into tables, combining multiple text files in one shot, and even un-pivoting data is not only simple, but an investment in the future. With Power Query's robust feature set at our fingertips, and our data clean and ready to be used, we're now ready to explore creating dynamic business intelligence models that are refreshable with a single click.
Next, we introduce the benefits, concepts and key terminology of Dimensional Modeling. Based on the Power Pivot Data model, it's this portion that lays the cornerstone of your reporting solution. You'll learn the difference between Facts, Dimensions and Relationships, where they live, and how to design and link their parent tables correctly. You'll also learn some key Power Query recipe patterns for solving two of the most frequent challenges when trying to relate tables together.
While learning to create the proper dimensional model is critical to every solution, the visible magic happens when we talk about DAX in the next section of the workshop. This powerful formula language allows us to report on much more than just the 'Sum of Sales'. In this workshop, you'll learn how to create a variety of DAX measures, understand how DAX measures are calculated, and how to control their Filter Context. These are all critical skills for building your own advanced measures for your work.
No course on self-service BI would be complete without discussing calendar intelligence, which is exactly why we cover it. From building calendar tables on the fly to exploring the "Golden Date" pattern, we'll work through the steps required for extending our model to report based on our own year-end.
Finally, we'll dive into specific features of Excel and Power BI that every analyst should know. How easy is it to create a Power BI report and use a variety of different visuals for displaying data? How can you publish a Power BI report and share it with other users? How do you manage those permissions? All these questions will be answered!
Throughout this workshop, you'll be working with both Excel and Power BI. Why? Because the tools and concepts you'll be learning work in both places. So how do you know which one is right for the job? We'll talk not only about that, but also how they can be used together in one solution. Come and join us to revolutionize your reporting process!
Target Audience
Anyone who needs to build reports based on data.
Attendees who are looking for coaching as they learn a new topic.
Experience working with Excel PivotTables is highly encouraged. Experience with Power BI is optional.
Course Structure
This course is a a hybrid format of pre-recorded video training interspersed with live online Q&A and coaching with Ken Puls, for direct help with your questions. The Boot Camp is broken down into two main sections:
Section 1: Course Curriculum
The main course curriculum includes more than 24 hours of pre-recorded video training, of which approximately 8 hours will be assigned per week for 3 weeks. In addition, attendees will also have access to 3 hours of live Q&A sessions (two 30-minute sessions per week) to ask questions related to the course material.
Questions for the sessions may be submitted in advance, and all of the live Q&A sessions will be recorded and shared with participants. Thus, you will still be able to learn from the discussions even if you are not able to join Ken live (due to time zone conflicts, other commitments, etc.) or get called away for part of the session. This also allows you to watch the recordings on your own schedule, and to pause, rewind, and practice more with example files.
Section 2: Long Term Support
In addition to the main course curriculum, this course also includes access to monthly "Ask Me Anything" (AMA) sessions. Each of these optional sessions is 2 hours in length, conducted live, and recorded for later viewing. This is a great way to receive continued coaching on a longer-term basis, as you apply your skills in the real world and run into real world problems.
As with all of our training courses, we also provide access to our curated Skillwave Support Forum as well, allowing you to get answers on a quicker basis should you need more immediate help.
If you are not able to join us live for the Q&A or AMA's, you can still submit your questions to Ken beforehand and he will answer them in the session. You will then be able to watch the answer later on in the session recording.
Total Training Hours
The core of this course contains 27 hours of training (24 hours of video + 3 hours of Q&A sessions). In addition, attendees may also attended up to 24 hours of additional training via the optional AMA sessions, resulting in up to 51 hours of training in total.
Registration Details
This course is built on an annual subscription basis where every registration includes:
One year of unlimited access to all of the Self Service BI Boot Camp video materials,
A seat at each AMA session held during the year,
Access to the Q&A and AMA recording archive since the beginning of the course,
The ability to post in our curated Skillwave Discussions Forum,
A digital copy of Ken's top-selling book with Miguel Escobar, Master Your Data with Excel and Power BI (the new second edition of M is for (Data) Monkey), and
Our handy Power Query Recipes collection (including all new and updated cards for as long as you are subscribed).
Registration Link:
Because the video portion of this course is hosted through our Skillwave Training website, please click the link below to register through the Skillwave site.