We are rapidly approaching November 1, 2020, which has been the latest release target for our Master Your Data book. This is the long-awaited second edition of M is for Data Monkey, the book that I wrote with Miguel Escobar.  I want to share an update with you as to why the book's release is about to be pushed back – yet again.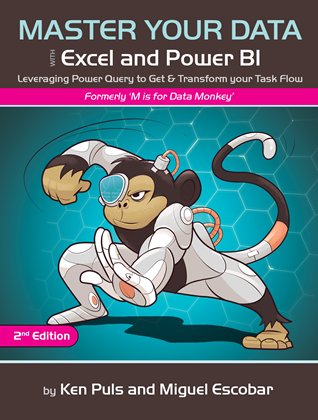 First, I just want to say that Miguel and I wish we did not have to do this.  We want to get this book into your hands and scheduled a big block of time in the summer to get this done.  Our challenge this time has not been around technology, so much as the same thing that has impacted virtually all of you this year: COVID.
What have we been doing, anyway?
From my side, I can tell you that I was away from home for over 155 nights last year.  I travelled a ton leading in-person training courses and speaking at conferences.  Returning to the office was dedicated to catching up on the things I had missed and trying to slot in a block of time to write was quite difficult.  And then, in March 2020, everything changed.  We hit a global lockdown, and I watched my business go from 100 to 0 in the span of one week.  Every single training contract cancelled or postponed; income flow gone.
In some ways, you would think COVID would be a blessing there… I mean look at all that free time, right?  But the reality is that I have a team of 5 people at Excelguru, and I need to pay them.  We had to pivot, and pivot fast in order to generate a new income stream to keep people employed, and this has been all-consuming since then.
We brought Matt Allington in as a partner for our Power Query Academy and rebranded the enterprise as Skillwave Training. Ever since then, we have been working on adding new content there.  During that process we have come to realize that our site hasn't scaled from a one-course site to a multi-course site. Now we're investing in trying to design and build a better structure for our entire site.  (No, no promises yet on when you are going to see that!)
How are we weathering the storm?
Now, I am pleased to say that all of my clients who cancelled or postponed have come back to us.  But even with the courses I've done dozens of times before, the commitment on my side for a one-day in-person course has now become one to two weeks of time. This is because I have to adjust it for an online format, shoot and edit the video, get it all uploaded into our LMS, and so forth.
I joke today that I am working double the hours for a fraction of the earnings… but at least I still have it better than most.  The reality for us – like many – is that 2020 has been a very hard year.  I am just super proud that despite all of these challenges, we've been able to scrape by.  I have been able to keep my entire team at their usual salaries.  It is tight, but we are making it work.
Of course, there are two authors for this book. And while Miguel's story is somewhat different, it is also somewhat the same.  He has been scrambling to deal with his business challenges – working sometimes 20 hours per day – in order to meet his commitments.
Where are we at with the Master Your Data book?
The simple reality here is that we just do not have the time to be able to write the Master Your Data book.  Book writing has never been a lucrative business, we do it for the passion of sharing with all of you.  So we are trying to build our businesses back to the point where we can do that again.
I know what you are thinking: "COVID, Murder Hornets, and now this.  2020 sucks!"  Yes, it sure does.
Having said that, we were asked if we should just cancel the sequel.  Miguel and I both said no to this.  We have made commitments to many people.  We are very proud of M is for Data Monkey and we want to make sure you get the new volume that you have been waiting for.  While the Master Your Data book won't be released in 2020, we hope that we can at least brighten your 2021.
What can we expect going forward?
Last week Miguel and I sat down (virtually) to work out our future plan.  We are both committed until the end of 2020, but feel that we should be in a good place to start writing by mid-January.  Here is our plan on how it is going to play out:
Mid-January (at the latest), we will begin writing.
We will deliver all chapters – once written – in draft form to active members of the Power Query Academy. (Yes, you will get a chance to review them before the general public.)
We will review comments and edits from the Academy members and incorporate as appropriate.
We will deliver chapters to our publisher as they are completed.
Our target completion date is March 31, 2021.
After that, there's time for page layout, copy editing, and a bunch of other stuff, but the Master Your Data book should be available from Amazon as of July 1, 2021.
Final Thoughts on our Master Your Data Book
Again, at the end of the day, we really wish that the book was being shipped to Amazon today.  We know that many of you have been waiting for this for a long time, and we very much appreciate your patience and understanding.  And if you have lost faith in us and you cancel your pre-order, we totally understand and accept that too.  We are committed to getting this in your hands, it is just taking us far longer than we had hoped.
Keep safe out there everyone.  We will come through for you.