XLG Favourites
This add-in was created to increase the functionality of Excel and address some shortcomings in the "Most Recently Used Files" listing. While we can increase the list to hold 9 items, I frequently use more than that many files during one of our month ends. It's also well known that long file names get abbreviated and difficult to read. This add-in addresses these issues, among other things.
The work is based very closely on the original "Favorites Add-in" created and published by Daniel Klann. It was his idea to create a menu to hold a list of favorite items. There were two main reasons that I put my own spin on this add-in:
To convert the add-in to use a database to store the favourites. This allowed for the installation of a single add-in file for multiple users in a network environment. (As discussed in my article here.)
To add the ability to add non-Excel files to the favourites menu.
The user interface was so practical that I rebuilt it in the exact same image, adding only the ability to add some minor formatting to the menus. Without Daniel's fine work, this add-in would most likely not have existed.
Basic Features:
Adds a submenu to the file menu to hold all "Favourites" that you choose to add to it.
Add the Active Workbook to the favourites menu.
Launch any favourite from this menu (including non-Excel files.)
Add the Active Workbook to the Most Recent Files list
A full Help File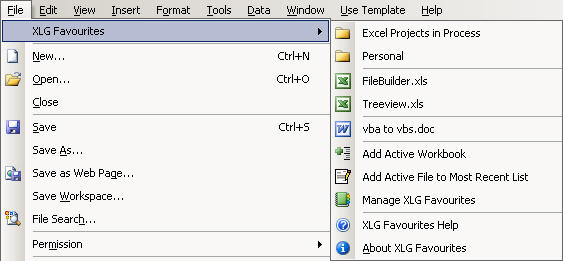 Advanced Features:
The add-in includes a Management userform which allows you to:
Add not only Excel files, but any type of file.
Add folders to the menu. When clicked, the browser will open at that location for you to pick the file to open.
Change the order of files/folders in the list.
Change the name that the files/folders display in the list.
Remove files/folders from the list.
Toggle a separator line to arrange your selections into logical groupings.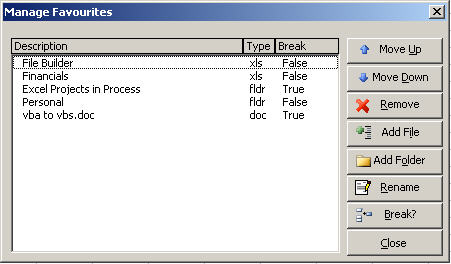 Versions Supported:
Excel 97 through 2010
Download:
The download package includes the latest version of the XLG Favourites add-in.The current release, (v1.104 from March 25, 2009,) can be downloaded by clicking the button below: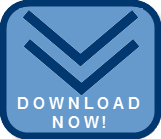 Instructions:
For a complete set of instructions on how to install and use this add-in, please visit the XLG Favourites Add-in Instruction Page.
Acknowledgements:
I'd like to thank my beta testers for testing this add-in. They are:
Search Terms: These terms have just been added to make it possible to find this article: Favourite, Favourites, Favorite, Favorites.