ON-DEMAND: Microsoft Excel - Basic & Advanced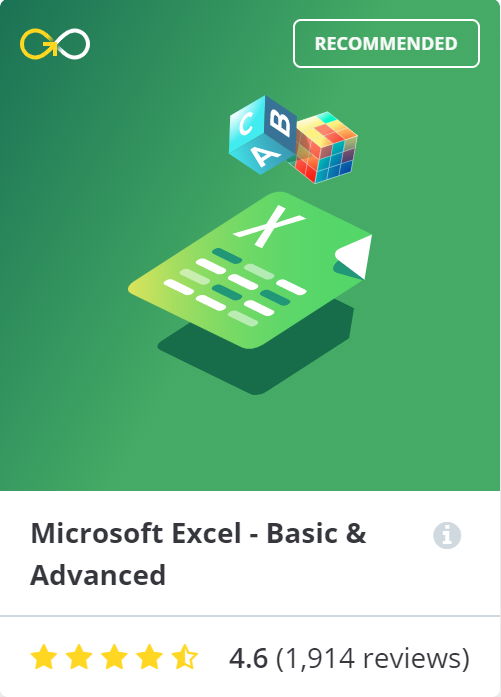 COURSE DESCRIPTION
Looking for an Excel course online to improve your skills and save you time? Ken Puls has worked with a company called GoSkills to help design and build Basic and Advanced Excel, an online training course that can quickly get you up to speed with Excel, taking you from complete novice to Excel ninja.
By the end of the course, you will be equipped with the real-world Excel knowledge you need to accomplish your daily tasks with ease. Also available: Excel Basic & Advanced for Mac.
And your sought-after Excel certification can help you impress your employer and advance your career prospects.
In this course, you will learn:
How to be a better, faster, stronger Excel user
How to save yourself hours of time and boost your productivity in Excel
How to navigate the Excel interface
How to use math, statistical, logic and text functions
How to find a value with VLOOKUP, HLOOKUP, INDEX, MATCH
How to sort and filter your data to find exactly what you are looking for
How to work with charts to present clear insights from your data
How to create and format Pivot Tables
How to record a basic Macro to automate repetitive tasks
How to use data validation to restrict data entry
How to customize your page setup options for printing
How to impress your boss and colleagues with your super sharp Excel skills
Over 51,000 people like you have learned practical, actionable skills from these self-paced online Excel classes to help them work smarter every single day.
Are you ready to master Excel? Become a certified Excel ninja today.
REGISTRATION
For full course details and to register, visit the GoSkills website.
Even better, there's even a discount available to you if you're ready to sign up. Just enter the code XLGURU at checkout and you end up getting the course at 15% off the regular price.