The day dawned bright and early, and we headed down to Lowell's for breakfast. The funny part about it was that Niek Otten had declared the previous night that last year's breakfast at Lowell's was the best breakfast he had ever had in his life! He was so excited that he got up at 6:30, and had to go right way without waiting for the rest of us. 🙂
After breakfast, we headed up to the Seattle Convention Center for the opening remarks. Getting stopped part way along the route, as the Dali Lama was exiting his hotel. I have pictures of his motorcade, but since it could be anyone in there, I didn't bother to put them up.
After attending one of the "Open Space" (aka BS) sessions in the afternoon, we decided to have our own Open Space discussion at Rock Bottom, so Debra, John, Dick Kusleika, Nick Hodge and myself headed off to do that.
Following our open spacing, which did turn out to be productive, (at least in my opinion,) it was time for the Regional Dinner. As we're all from the nation of Excel, we commandeered a couple of tables. I have three pictures of each to get the whole crew here...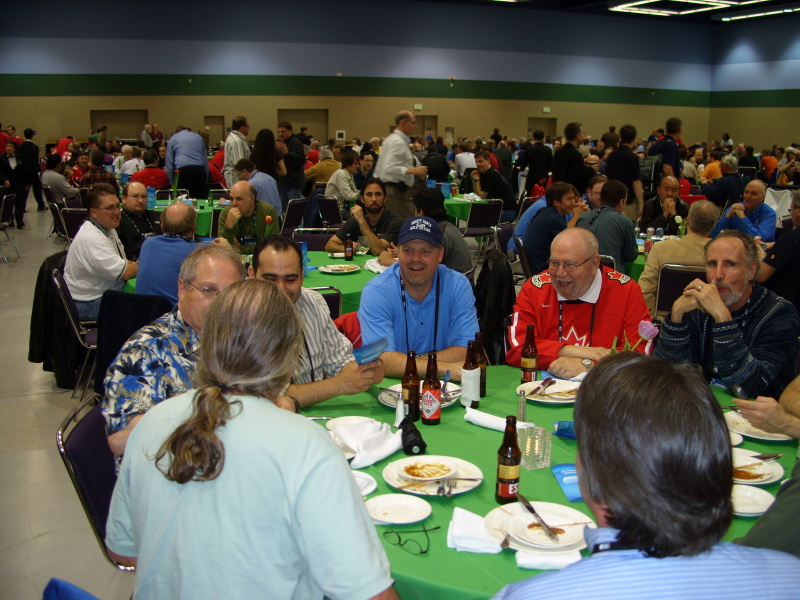 Clockwise from bottom left: J-Walk's pony tail, Bob Umlas, Mike Alexander, Dick Kusleika, Bernard Liengme, Shane Devenshire and the back of Niek Otten's head.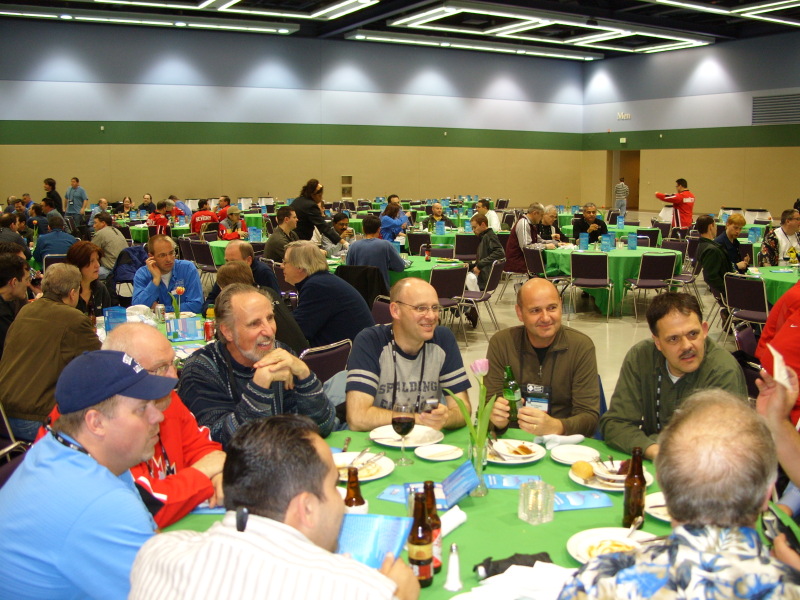 Same table, clockwise from the hat (Dick Kusleika), Bernard Liengme, Dick Kusleika, Bernard Liengme, Shane Devenshire, Nick Hodge, Ed Ferraro, Jan Karel Pieterse, Bob Umlas, Mike Alexander.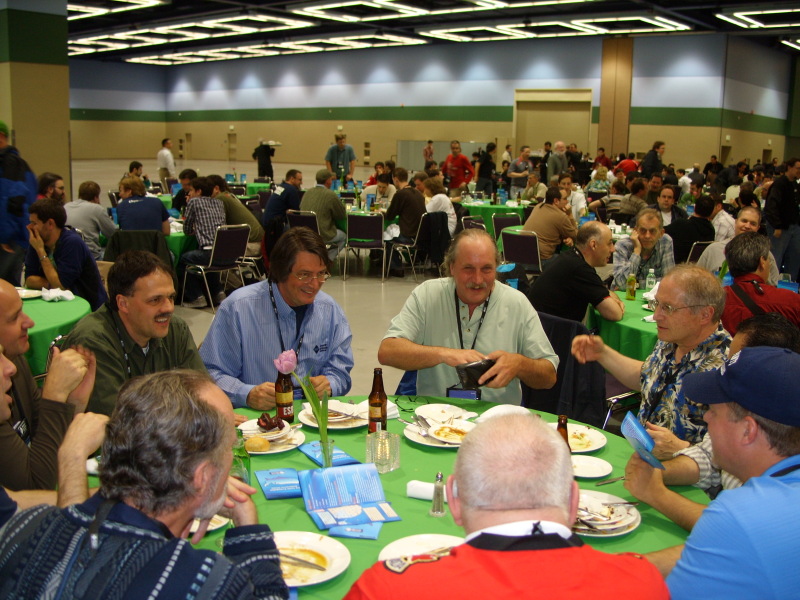 And again from bottom left in the blue sweater is Shane Devenshire, Nick Hodge's nose and mouth (strangely he's talking...), Ed Ferraro, Jan Karel Pieterse, Niek Otten, John Walkenbach (pulling Canadian Tire money out of his wallet,) Bob Umlas, Mike Alexander (who you can barely see behind) Dick Kusleika and the back of Bernard Liengme (in the red hockey jersey.)
And at the other table we had: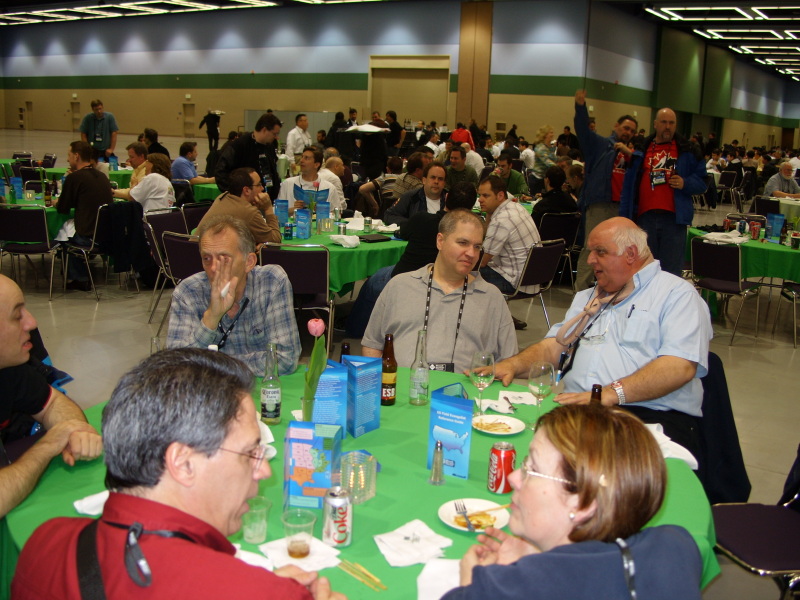 Clockwise from Andy Pope's face on the left we have Bob Phillips, Rob Bovey, Roger Govier, Debra Dalgleish and Ron Coderre (whom I never did get in pictures last year.)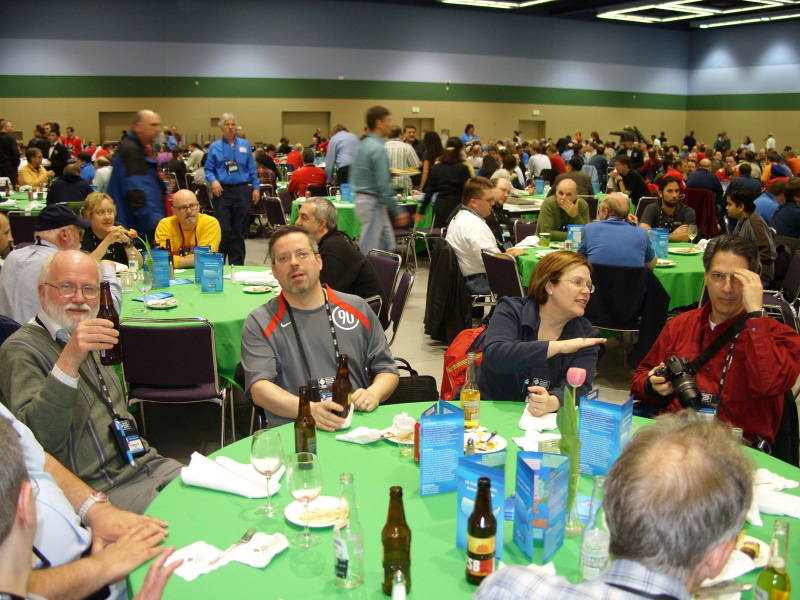 At left here is Bill Manville (saluting with his beer), Curt Frye, Debra Dalgleish, Ron Coderre and the back of Bob Phillips head.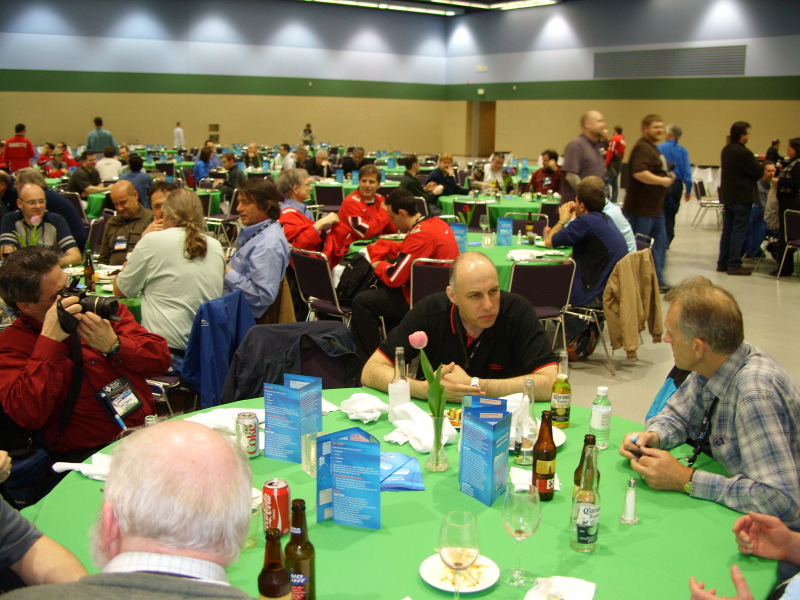 And here is Ron at top left, someone's empty seat (for the life of me I can't remember who it was,) Andy Pope, my empty seat, and Bob Phillips.
Not pictured, but present, were Zack Barresse (who I don't have in any photos this year for some reason), Smitty Smith, Matt Vidas, Patrick Matthews, Brad Yundt and Kevin Jones.
As you can imagine, once we finished this dinner, we adjourned to Rock Bottom, then again to the Seattle Westin's lobby bar once the Rock Bottom closed. As I recall, the night ended at about midnight, with a 6AM alarm for breakfast the next morning.