Yes, you read that right… Power Pivot is coming to all Office SKUs and the rollout has already started for those on subscription versions of Office.
This is something I've been championing (along with many others) since Power Pivot was initially rolled in to Excel 2013.  The whole need for Pro Plus licensing, which was even initially only open to enterprise licensing, was a huge mistake in my opinion.
Today, the Excel team updated the Excel Uservoice request to make Power Pivot available in all SKU's of Excel to say "we're doing it".  Finally!  So yes, if you're running the Home and Student, or Business Premium plans, you'll finally have access to Power Pivot!
What is Power Pivot is coming to all Office SKUs?
How long will it take for Power Pivot to show up in your version of Excel?  That depends upon what you purchased…
Excel 2013/2016 non-subscription users
Unfortunately, you need to upgrade to a subscription version of Office or to Office 2019 (whenever it comes out).  They're not going to back port it to those versions as far as I'm aware.
Excel Subscription users
You have two options:
Wait till it shows up.  Microsoft has said that they are already rolling this out to people on the April Current Channel (build 9330 and higher).  So depending on where you are in the cycle, it will just show up one day.
Install an Insider Preview in order to jump the queue.  Keep in mind that this isn't for everyone as this is Beta software, but if you're interested you'll also get access to newer features like the new data types, Insights and more as well.
How do you know your Excel SKU, version and what channel you are on?
(Please note that Channel is only applicable to Subscription users)
Go to File --> About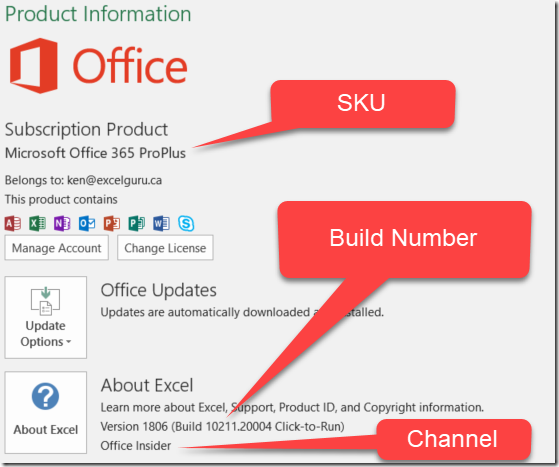 How do you get on the Insider Channel?
It depends on the SKU of Office you purchased.
Consumer Office Versions (Office 365 Home, Personal, and University)
All the relevant info on opting in or out of the program can be found on Microsoft's website here.
Commercial Subscribers (Office 365 Business, Enterprise, or Education)
You'll need to go to this page.