Some time ago we embarked on a bit of a crusade to get Microsoft to fix a specific issue with Power Query related to performance.  I posted about it in detail on the Power Pivot Pro blog, and have been encouraging people to vote on this at every possible turn.  Conferences, classes, my free e-Book series, even the Microsoft Data Insights Summit - none of them were immune to hearing me drum up support to get this fixed.
Your voice matters
You voted, and Microsoft listened.  I'm super excited to let you know that they have architected a fix based on your votes, and it's finally out of testing!
Even though the idea is still marked as "started" on UserVoice, (I got this directly from a reliable source,) it is starting to roll out to the Office Insider channels on Office 365.  I'm told that so long as you're on version 1801, build 9001 or higher, you're good to go and have the fix in place.  You can locate your version and build information via File --> Account: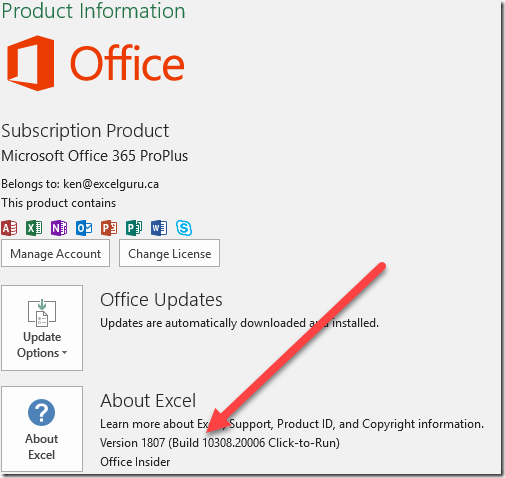 Thank you for voting!
While Microsoft does listen to me, my voice only goes so far.  Your voice matters a huge amount in this process, as it validates that it is bigger than just one person.  I want to thank everyone who voted for this fix to raise it's importance along the way!
Can't wait for the fix?
You can get on the Insider channel, and that will get you the fix.  There are two methods to do this:
For consumer licenses of Office 365, you can find out more here.
For commercial users, you have to download and configure an installer, which you can do here.
Will this fix all your Power Query refresh speeds?
Absolutely not.  This deals with one specific technical issue that we identified which was re-doing work multiple times.  There is still much improvement that needs to be done, but at least we've got a start here to bring Excel back to parity with Power BI Desktop.
In the mean time, if your queries are going slow, you might want to consider our Power Query Academy.  We have a module on Query Optimization which teaches how to use Buffer functions, provides a strategy to reduce lag during development and also shows a few settings that can be tweaked to make your code run faster.