I can't believe that it's less than a month until I'll be at the Amsterdam Excel Summit.  We've got a full day of conference sessions on June 7, but the really cool part is that I get to teach Master Your Data with Power Query in Amsterdam for the first time.  I've taught this course in half a dozen countries around the world (so far), and saved people from thousands of hours of manual effort.  And now it's available to you in the EU!
What is Master Your Data?
Master Your Data with Power Query is my full day course on how to really get started with Power Query in Excel. Why is it so important? It's because it will help you  to get hours of your life back.  You spend 80-90% of your life PREPARING data for analysis.  This tool is all about getting those hours back so that you can analyze the data and add value to your company.
Power Query is a FREE add-in (from Microsoft) for Excel 2010/2013, and is so important that it is now built in to Excel 2016 and higher.
What is covered in Master Your Data?
We start with a quick PivotTable review (because that's the whole reason we need good data), then dive in to using Power Query with real world data.  We look at importing data from CSV, text and Excel files, and even entire folders full of files all at once.  And when we're done, we just update it for the next month by pressing the Refresh All button.  If you do any copying and pasting of data on a monthly basis, you're wasting your time today.
Why do you care?
The items above alone will save you a ton of time. Here's a couple of examples:
One of my clients saved 8 hours per week of manual labour using these techniques - that's 52 days per year she could work on other things!
At the Australia conference we were able to automate a workflow in 30 seconds, saving the attendee 6 hours per week - hours that she had been putting in on the weekend because she couldn't get it done at work.  30 seconds to get 6 hours of family time back!
Yes, there is a cost to your class.  And yes, you'll need to pay for your travel, meals and hotel.  And yes, that can look like a lot of money - let's say that all told it's 2,000 Euros...  Divide that by your hourly rate though, and see how many hours you need in order to break even on the training.
Let's be conservative and say it will save you 2 hours per week… how many weeks until you break even?  What if it were to save you 4 hours per week?  Or - like my client - 8 hours per week?  This is probably the most impactful thing you can do for your Excel career today.
But remember that the raw cost is only part of the equation here… what is your time really worth?  What opportunities are you forgoing because you're wrapped up in data preparation and not analysis?  What could you do for your company with another 2 or 4 hours per week?  That's where the real value comes in.
Is there more in Master Your Data?
Of course there is!
I'll show you 7 different ways to merge data tables (with no VLOOKUPS), which will allow you to identify the items you need to focus on reconciling (not focussing on the items that don't.)  I'll show you how to perform an approximate match in Power Query, as well as how many-to-many joins can be created and why you'll use them.
You'll learn how to convert data from one format to another - all refreshable with a button.  Pivoted data like this:

Stacked data like this: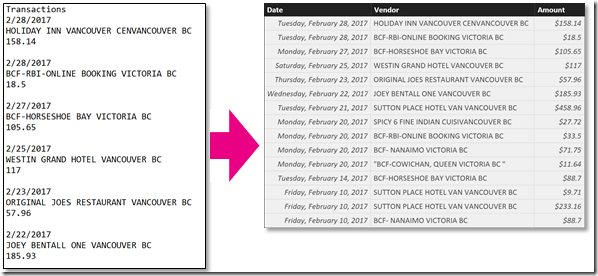 And even subcategorized data like this:

Whether you need to feed a PivotTable, a chart or a Power Pivot Data Model, the steps shown in this course show you how to create refreshable transformations in seconds that you can update with a click next month.  How cool is that?
I'll show you how to deal with conditional logic patterns that can be built through user interface buttons like this:

As well as some that require a little more work and error handling, like this:

And - of course - more.  There's always stuff I include that is not in the outline.
Oh… and did I mention that this training is 100% transferable to Power BI as well?  Even if you're not in that space today, you're learning a skill that is 100% transferrable to other programs in the future.  It's double the bang for your buck!
Trust me when I say this… This toolset is the future of your data analysis systems - and the future is available to you today.
What do you get in Master Your Data?
You get:
A full day with one of the world's leaders in the Power Query technology (who also happens to be one of the most passionate presenters you'll ever see)
Copies of my slides to keep - many of which are data transformation recipes that you'll refer to again and again
Copies of both the before and after files
The chance to ask me questions about YOUR data as well
Hours of your life back (this is not a training expense - it's an INVESTMENT in your future!)
More details on Master Your Data
The full details on this class can be found here.  And you can register here.  I hope to see you join me so that we can super charge your data preparation process and free up your time for work that actually adds value!