Well, I've been missing in action for a few days on the blog, but due to the fact that I was having a great time at the summit. I will say that there were some pretty long days involved in this, but they flew by. I think the earliest I crawled into bed was 1:00AM, and I was up at 6:20AM every morning to get ready and head off to the various events.
At any rate, in my last post, I left off just before dinner on the Monday night, so here's what happened from there...
We went off to the "Regional Dinner". There were actually 4 of these, I think. One for Japan, EMEA (Europe, Middle East & Africa), APAC (Asia Pacific), and the America's dinner, covering both North and South Americas. I joined the table of US Excel MVP's, and got the chance to meet a couple of the guys who I had not met the night before. Bob Umlas, Charlie Kyd, Curtis Frye and Damon Longworth. (I think... there may have been others...)
Unfortunately, I don't have any pictures of that part, but Damon does, starting right about here. (Keep clicking next, as he was very photo happy!)
While dinner was good, and the conversation was great, the entertainment was awful. I don't think I've ever seen a more obnoxious, less funny comedian. Bob Umlas and Curtis Frye started doing magic tricks at our table, to at least keep us entertained. After a while, though, none of use could take it any longer, and escaped for a group photo that I'll post when I get it. We hung out until about 8:30 or so, then a few of us took off to go and check out the SupportSpace party.
I'm not going deep into SupportSpace here, but suffice it to say that they are a commercial upstart that wanted to get the MVP's and other experts in a room to pitch business at them. They hosted a party, and flew Anne Troy out to attract some of the MVP's, which was a good enough hook to get a few of us to go. So off we went, and listened to their pitch. The cool thing about this event was that we got to have a VBAX photo! 🙂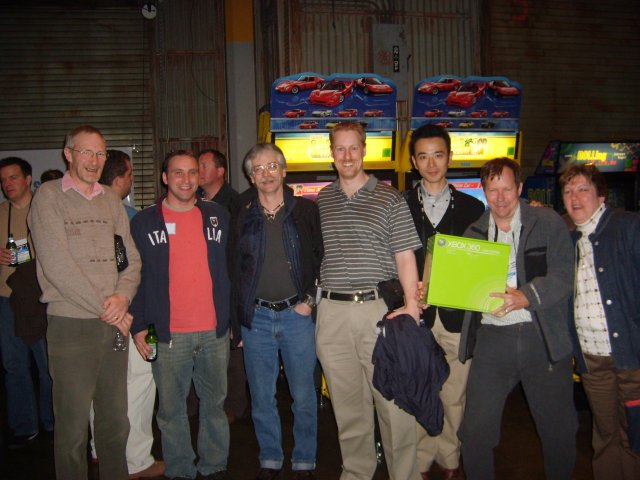 The characters from left to right are: Tony Jollans, Zack Barresse (firefytr), Gerry Knight (fumei), myself, Colo, Andrew Engwirda and Anne Troy. You might notice that Andrew is holding up an XBOX... he won it as a door prize. Now how cool is that?
For the record, while Gerry may not be an MVP in title, he was invited as an expert to the party. (As anyone who has ever dealt with him knows he is.) He went through an absolutely horrible Greyhound trip to get down to Seattle to meet us all, but I'll let him tell that story if he likes. 🙂
More to come as I catch up on the days...