I recently taught a course and, while this wasn't actually covered in the course content, we did discuss it. I've found that every time I demonstrate this technique, it gets some "oohs" and "aahs", so I figured that I'd share it here.
The question I was posed is "I have a spreadsheet where the data is set up across rows, and I'd like it down the columns. Is there an easy way to do that?"
It is a fairly common request, in my experience. One specific example I remember helping a friend with was a list of product and serial numbers that they pulled from a system. I'll pretend that it looked a little like this:

In this case he wanted to change it to a column of item descriptions and serial numbers. It was a lot more columns of course, and was floored when I sent it back to him within a minute. (It took longer to open the file and respond to the email than to fix it.) Here's how you do it:
Select the data in A1:E2
Right click and choose "Copy"
Click in another cell (I chose A5)
Right click and choose Paste Special

In the dialog box shown below, ensure you check "Transpose"

Click OK and you're done
The completed data looks as shown below: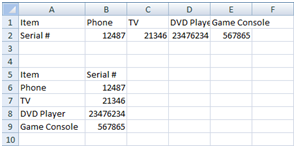 And yes, if you want to go from columns to rows, it works too. Same steps exactly.